PoDIUM — Accelerating the implementation of Connected, Cooperative and Automated Mobility technology
Partners on this project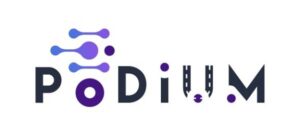 PoDIUM aims to advance a set of key technologies both in the physical and digital part of the infrastructure to address the challenges in road automation and telecommunications linked with connectivity, cooperation, data management, interoperability and reliability in order to foster the developmentr
PoDIUM aims to advance a set of key technologies both in the physical and digital part of the infrastructure to address the challenges in road automation and telecommunications linked with connectivity, cooperation, data management, interoperability and reliability in order to foster the development of advanced Connected, Cooperative and Automated Mobility (CCAM) solutions.
The project will carry out demontrations in real-life conditions of specific use cases in three Living Labs in Germany, Italy and Spain, in urban, highway and cross-border environments.
PoDIUM's final outcome will be a reference architecture that can be applied to various road environments and infrastructure equipment.
Telanach is proud and motivated to be part of the consortium and also in the execution of the Spanish living lab.